Find some general questions with answers and tips to our bread baking mixes and their handling. Questions to the shipping process are answered here.
Click for details to BREADISTA's baking box subscriptions & user accounts

You can choose between a length of 3 or 6 month.
All subscription plans are set to 'manual' as default and will expire according to the length you've choosen. (In your account you can set the subscription on 'automatic' renewal.)
When your subscription expires you'll receive a notification email.
Once your sub is expired your account is closed too. You then need to create a new one for a new monthly baking box subscription or any other order.
You can also pause your monthly plan once for 30 days,
e.g. if you plan to go on vacation. Just set the date in your account.
(! please inform us early to double check all is set)
If needed, you can also change your shipping address.
(! please inform us to double check your changes are set)
You can cancel your automatic renewed subscription any time until the end of the billing cycle.
I.e. for the first time 32 days after your renewed purchase date.
User accounts without activity for 12 month will be deleted.
Are the ingredients organic?
Yes! The flour & seeds we use are always organic. We strive to find the best high quality ingredients. They are well chosen and whenever possible organic, as far as the price is economical and reasonable. Check the ingredients list on the product page for all details.
Are all necessary ingredients included?
Yes, all dry ingredients are perfectly pre-measured, so our bread mixes are ready-to-use.
Do I need additional ingredients for making your bread?
Usually you just need to add water. Single bread kits in a subscription may ask for some butter, oil or vinegar. Please read the instructions carefully before you start.
Are the bread kits and bread mixes for bread machines?
Our bread mixes are created to make your loaf/rolls easily by hand. So no, they are not tested for the use in bread machines. We do not recommend it!
I don't have filtered water. May I use just tap water?
We recommend filtered water, because of the softer taste. You can also use bottled water. Depending on the season, humidity and even the temperature in your kitchen, the flour absorbs more or less water. When adding the water to the main dough, hold back the last 1-2 tbs and just add them if needed.
Do I need to add some yeast?
No. Every baking kit and baking mix contains the perfect amount of yeast.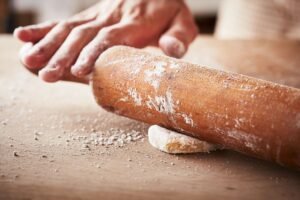 Can I do the recipes with my kids or grand children?
Bread making is often not so funky like baking and decorating some cookies or muffins. Making bread rolls or pretzels are more likely to have some fun with kids. Just be aware of eating no raw dough.
I just have an oven who get heat from the bottom. Will that work?
Yes, we tested all recipes that way. You don't need convection. The temperature is more important, it should reach 430-500°F.
I don't have a baking stone. Can I bake the bread anyway?
Of course. Just take a baking sheet or an iron (griddle) plate/pan, which you are using normally on the stove top. Heat them up with the oven. (Check the level of heat ressitance!) Line it with parchment paper or sprinkle some coarse corn meal or flour on it.
What is a 'dutch oven'?
A dutch oven is an iron or enamel pot with a lid. It's the perfect way to develop steam and keep it inside the pot to get a perfect rise (ovenspring) of the loaf. Heat them up with the oven is crucial.
Why do I need that additional little steel/iron pan with water in the oven?
That's the easiest way to produce steam when you don't have a dutch oven. You need steam to get a good rise of the dough ('oven spring'). Mostly you have to take out the pan during the last minutes to get a crispy crumb. (Please read the instructions.) Be aware and don't burn yourself.
Why should I measure the food temperature?
It's important that the bread loaf is totally baked through (93-98°C / 200-208°F). You can either measure or tap at the bottom. If it sounds deeply hollow it is baked. Let the loaf always completely cool down, at least 4-5 hours or at best overnight.
Is that bread gluten free?
No. We use organic flour made from grains. Real artisan bread means real flour.
How do I keep the bread fresh?
You can hold the loaf fresh when placing it with the cut face down on a cutting board and cover it with a kitchen towel. You can store it in a paper bag, too. When you're using a plastic bag, the bread will be softening. Don't close the plastic bag as there is a risk of molding. If you like to freshen up your bread or rolls, just place it on a rack on your push-down toaster. Once or twice every side.
What do you mean with 'spray the dough with water'?
Just take a small spray bottle filled with filtered (or bottled) water. Spray the loaf or bread rolls and in general into the oven. Close the door immediately. Spray again after 5min. With this step you keep the dough surface moist and the rising will be better. When you don't have a spray bottle, you can use a pastry brush. But be careful, don't burn yourself!
My bread kit is at the BB-date, is it still good?
Usually yes! Even when the BB-date is reached, you can still use the bread kit/mix. Depending on how you stored the bread kit/mix (best is a dark, cooler place like a pantry), the yeast may need a little bit longer to react. Just give it a bit more time. When you're 2 month or more over the BB-date, no worries, you can still try to get the best out of it. Just add 0.5-1 TSP of instant yeast to the main flour-mix. Eventually you also have to adjust the amount of water, plus/minus 1-2 TBS water. Feel free to reach out to us in case you're unsure how to proceed with a bread kit when it passed the BB-date.
Are you still missing an answer to our bread baking mixes?
Just let us know and we'll reach out to you as quickly as possible.